Yesterday after returning from the long weekend, Mark discussed simple but critical points to keep everyone in the work place safe:
YOU SHOULD: 
Make safety a habit.
Value your personal health and safety. You are the person most in control regarding your own safety.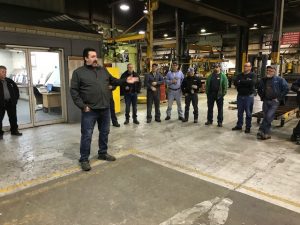 YOU SHOULD NOT:
Take shortcuts and risk hurting yourself or others around you in the workplace.
Mark ended with thanking the crew for all they do to make BWS Manufacturing a safe work environment. He also reminded them to look out for one another – when you keep an eye on other people's safety, your own safety awareness improves.